Temperature Control Equipment
Count on SMC for all your temperature control needs
Temperature control equipment and pneumatic system such as thermo chiller, thermo cooler and heat exchangers are used in a wide ranges of industries to control the temperature or cooling of products, mechanisms and factory machineries.
Thermo chiller are products that control the temperature of heat sources in customers' devices and equipment using temperature-controlled circulating fluid. Maintaining a fixed temperature can improve the quality, reliability and service life of devices or equipment.
The general function of a heat exchanger is to transfer heat from one fluid to another by using a thermal conducting element, usually in the form of tube of plate.
Depending on the application and operating conditions, thermo chiller, thermo cooler and heat exchanger have their advantages and design applications they are best for.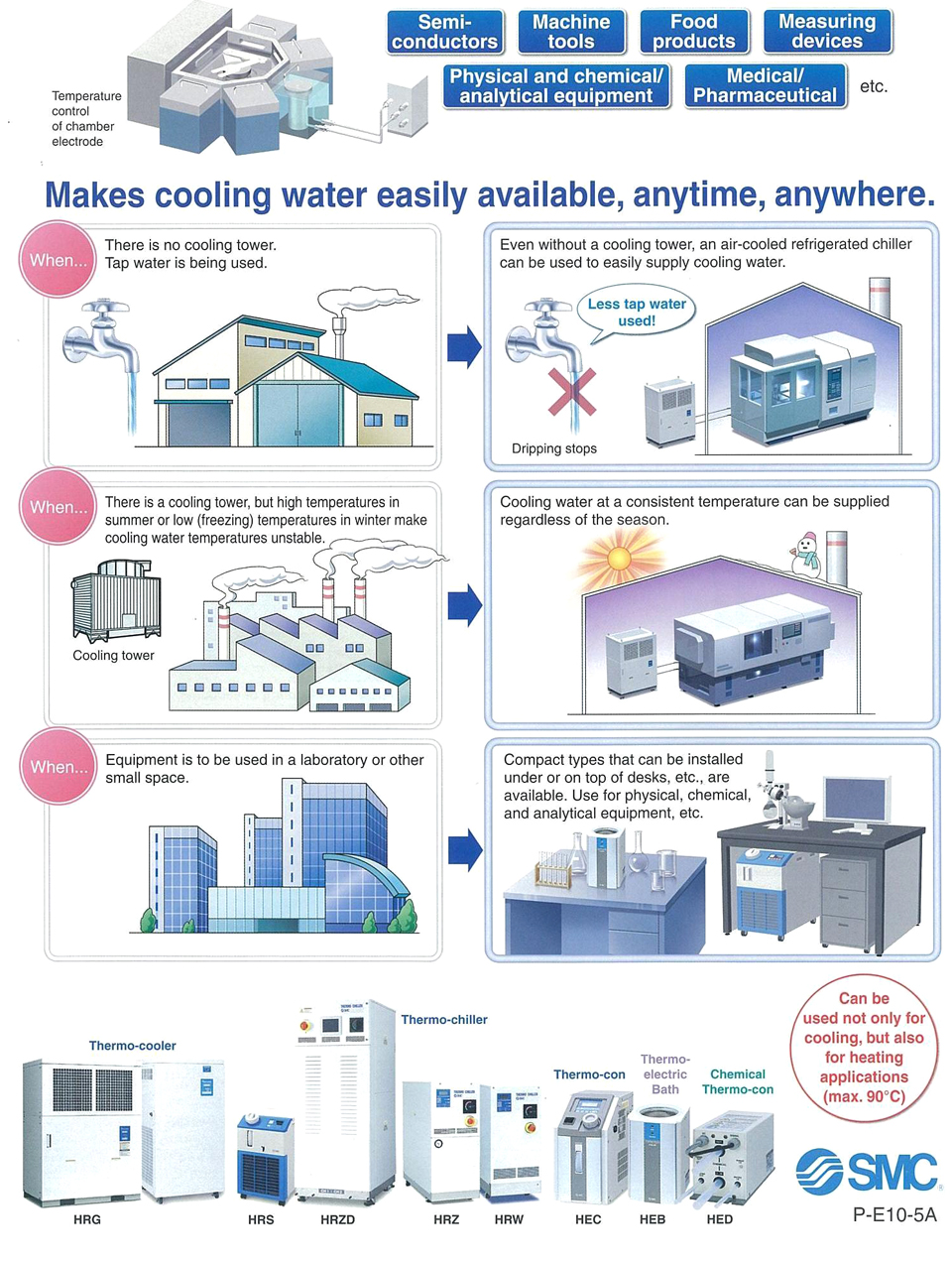 What's a Chiller
Refrigerated Thermo - Chiller
Water - cooled Thermo- chiller
Application
Thermo chillers control fluid, such as water, and circulate the fluid to customers' machine using a pump by controlling the output from a cooling source such as air compressor, or a heating source such as a heater. That's why this equipment can be also called a circulator.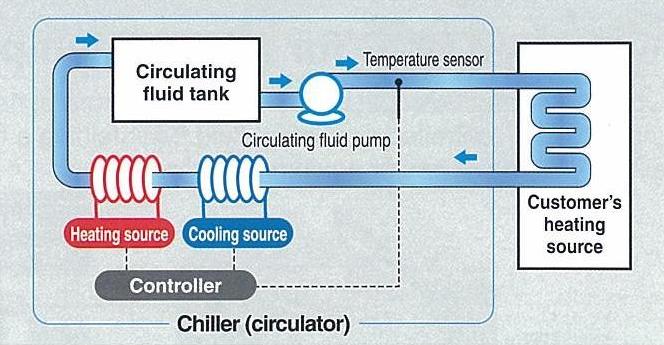 Refrigerated Thermo – Chiller
Cooling Capacity from 1 KW to 15KW. For a wide range of applications.
Generates low temperature using a refigeration cycle
This equipment cools the circulating fluid by performing heat exchange with low-temperature refrigerant gas, using a build in refrigeration circuit that circulates refrigerant.
Large scale heat exchange can be handled compared with the Peltier type. There are two types of heating sources: high temperature refrigerant gas, which is generated from the refrigeration circuit, and an electric heater. Both air cooled and water cooled types are available, depending on the condenser's cooling method.
Water Cooled Thermo-chiller
For temperature control in room temperature area.
Refrigerant – free and energy-saving type using no compressor
This equipment cools the circulating fluid by directly exchanging it with the cooling water in the plant. This can be used at room temperature or higher, and also used when there is a cooling water circulation facility.
Large scale heat exchange can be performed using less energy, and the device has a compact body since a compressor is not required. An electric heater is used for heating