ALLPACK EXHIBITION 2018 in Indonesia
ALLPACK 2018
17-20 October 2018
Jakarta International Expo – Jakarta, Indonesia.
The Food & Beverage, Pharmaceutical Packaging Industry is set to benefit from a selective range of automation and component products developed by SMC.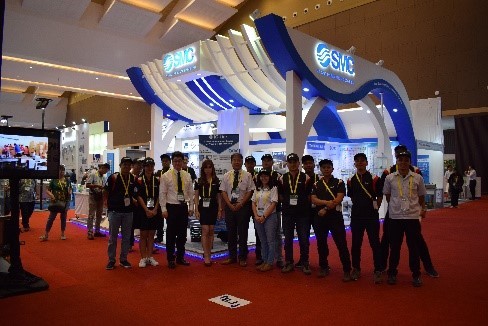 This is the fourth time PT. SMC Pneumatics Indonesia participated in ALLPACK 2018 and this year, SMC Indonesia showcased its latest range of products specially developed for Food and Beverage and Pharmaceutical Packaging sector.
Products are displayed in several theme/corner for visitors' convenience, such as The Industry 4.0, Pick and Place, UR robot, Clean Room Environment, Safety, Energy Saving, Training and Service Corner.
This year, PT. SMC Pneumatics Indonesia achieved more than 1900 visitors to their booth!
SMC Indonesia also achieved one of most captivating booth at ALLPACK 2018, and was visited by Ministry of Industry and CEO of Event Organizer Kristamedia Mr. Daud D. Salim.
Thank you all visitors who had definitely made our event a great success!